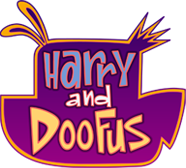 "Harry & Doofus" is a comedy about two buddies - like Rocky and Bullwinkle - except they hate each other! HARRY is a gung-ho warrior rabbit wannabe – and a commoner. PRINCE LEONARDO DU FUSS ("DOOFUS") is a pampered lion of the Royal Family. Total opposite ends of the social spectrum. Brave vs. fearful. Driven vs. lazy. Combative vs. mellow.
But these two tweens are thrown together by royal decree. Now Harry and Doofus must muddle through their adolescent years as adversarial allies.
And yet, these hilarious opposites manage to rub off on each other, instilling their best qualities on the other and slowly… very slowly… becoming fast friends. Almost.